Do you like wine and want to taste some?
Do you want to explore cellar lanes?
Are you interested in seeing renowned vineyards of Znojmo region?
Do you want to learn about a one-of-a-kind project in the Czech Republic?
If you answered YES to at least part of these questions, then especially for you is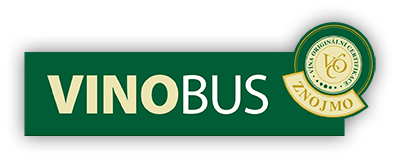 |
14 Stops
|
59 Kilometres
|
20 Wineries
|
The beauties of Znojmo and surrounding villages, view of the vineyards, wine-tastings, and so much more.
What is it about?
On the 59 kilometres long tour over viticulturally interesting spots, you can set off at three different times – 9:00 and 13:45.
In the surroundings of this royal town, you will pass through vineyards, wander around cellar lanes and visit several wineries.
At eight stations, you will taste the top wines with certification of origin by wine makers of Znojmo region.
On your journey, you will be accompanied by a trained guide who will not only introduce you to local topography but also advise you in the choice of wines.
It is possible to get off the bus on any of the fifteen stops and make your own plans. In the next three hours, you can re-join Vinobus and continue with the planned route.
Bicycle rack is prepared for cyclists and their bikes.
---
The Vinobus Project is realised with the support of: